Giving the gift of technology – how we're keeping people with disabilities and autism connected this Christmas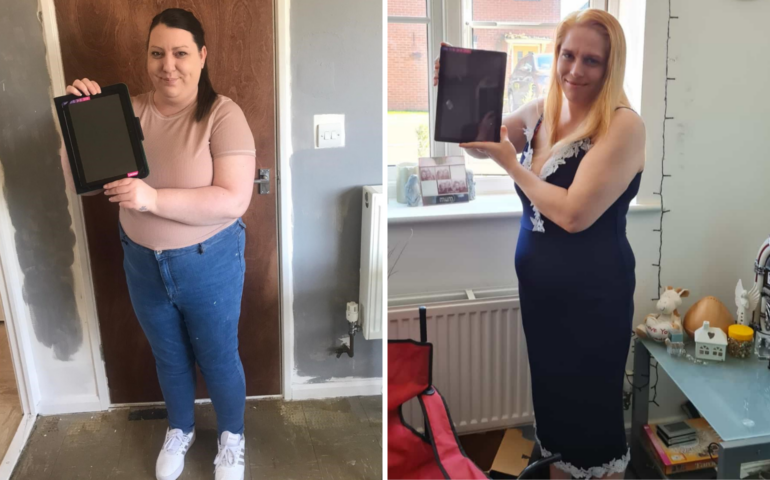 Access to technology can make a tremendous difference in the lives of people with disabilities and autism.
Throughout the pandemic, donations and sponsored events have been crucial in helping people we support to keep in touch with their friends and family.
Because of your generosity, we've been able to provide hundreds of tablets and laptops, improve people's internet access and offered digital training across England, so the people we support could stay connected to those they love most. 
Shaun, who is supported by United Response in Trafford, was thrilled to receive a new tablet to help him with his job search:
Liz Farrell-Cutts, a service manager in Hucknall, told us:
We recently received 14 tablets and dongles for the people we support in Hucknall and Nottingham City.

The response we received has been overwhelming. We had tears of joy; they couldn't believe they had been given tablets to keep.

The impact these devices have had was described by one of the ladies as 'life-changing'.

It will enable people we support to widen their social networks, and look for jobs, as well as helping them to attend important wellbeing meetings via Microsoft Teams.
12 people in West Sussex received laptops and printers thanks to the support of our donors.
Before Covid-19 restrictions came in, the residents were all very active in their local communities, attending paid work placements and regularly visiting dance classes, leisure centres, cafes and pubs.
These devices have ensured that the people living at these services can speak with their family and friends regularly as well as joining in with online activities organised by United Response and other organisations.
Since getting their devices, residents have been attending regular online dance and exercise classes, taken part in art classes with the Aldingbourne Trust and have even been on virtual tours of zoos and museums!
Here's what the people at our two services in West Sussex said about their new equipment:
I really enjoy the laptop – I am able to watch films with my friends and keep in contact with my friends and family over Skype and Zoom.

I was also able to work out how to work the computer quickly – I am very proud of myself. For the first time, I am sending emails to friends and family and using Zoom about three times a week.
I enjoy being able to listen to all types of music on the laptop with my wife Sheila. We dance around our living room listening to it.

I'm really proud that I'm able to work the laptop without staff support.

I also print my art supplies off of the computer through our printer – I enjoy this because I can draw/paint what I like.
I enjoy watching films with my friends and keeping in contact with my friends over Zoom on a Wednesday – I helped people work out how to use the laptop once I could!
Technology access can transform lives, unlocking much-needed opportunities for people we support and helping them to stay connected with loved ones.
With your support, we can provide more devices and improved internet access for people with disabilities, autism and mental health conditions. 
This content is part of our Christmas2021 series.
Maxine Spry is Grant Fundraiser at United Response.
Help us bring some sparkle to the people we support this Christmas
Your donation will have a huge impact on the lives of the people we support.
£25 could pay for an hour of job coach support to help someone with autism into a job
£50 could supply tools such as a wheelbarrow for one of our horticulture projects such as Boscawen Farm in Truro, or our allotments in Bristol and Blackpool
£100 could help fund a two hour activity session for people we support such as karate, keep fit or dance
£125 could purchase two new microphones for our community radio stations