'He was here, he was happy': Kym and Glenn's story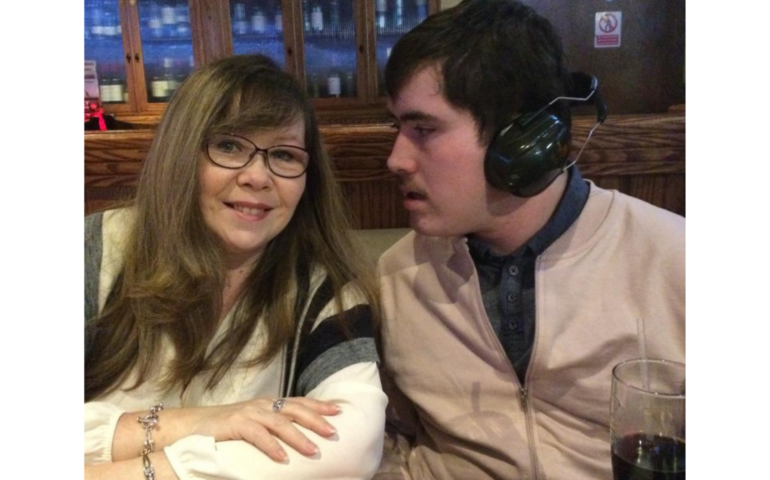 Why did you choose this house?
When Glenn was 19, I realised that eventually he needed to not be living with me, as I was going to get older and I wasn't going to be able to look after him. The best thing was to make an effort to plan to 'give him away' in a way, which was the phrase in my head – and that was a real worry.
I set myself a 10 year plan, to work towards him living independently of me. And as it happens, nothing was happening! I kept asking Kingston if anything local was coming up and I said it needs to be specifically in the area, because it needs to be near me.
Nearly two years ago, they said there's a service in the borough and Glenn will be one of the first that we will consider. It would be run by United Response and in this property, which was known to Glenn already because he used to come to respite here. He actually lives in the same room he had for respite.
I didn't know much about United Response. I did a bit of research, then met the Service Manager Angelika. She put me at ease because you've got someone who is so knowledgeable, down-to-earth and so real. So Glenn moved in and within a few weeks, he was settled. He was here, he was happy.
He would come back to my house – because we make a distinction. We don't say home any more we say: 'Glenn's house', 'Mummy's house', 'Brandon's house' – everywhere is home so we wanted to make that distinction with the wording. He'll come back to Mummy's house and after a little while he'll be fed up and say 'Mummy – home'. He's putting his shoes on ready to come back.
Are you both happy?
Glenn is very happy here. I'm extremely happy Glenn is here. Yes, there's always teething problems and there is going to be. It's not going to be perfect for every single mum. We are all going to have our view on what we believe is perfect. The big picture is if our boys are happy, and we can see them happy, then that's telling us a big thing. Glenn is extremely happy and I'm extremely happy.
This content is part of our Mother's Day series – read more interviews like this.