How to make: a singing angel Christmas decoration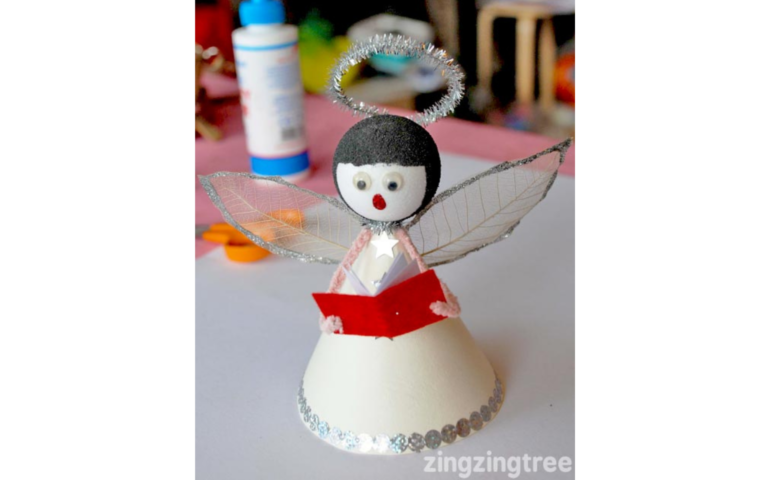 You could make your desk look more like Christmas or you could place it on top of a small Christmas tree you might have at your house.

(Source: Blue Bear Wood)
You will need:
A4 card
Trim for the edge of the cone (use ribbon or glitter glue)
Pale pink cotton pipe cleaners
4cm polystyrene ball
Black craft sand
Skeleton leaves
Glitter glue
Tinsel pipe cleansers
Googly eyes
PVA glue
Felt off cuts
Sticky foam pads
White paper
Plastic needle
Metal needle
How to make the angel:
Grab 2 skeleton leaves and carefully run the glitter glue around the edges. Leave them to one side.

Grab a plastic needle and carefully insert it into the bottom of the 4cm polystyrene ball. Use your PVA glue and carefully paint the hairline.

Then, carefully pour a small pile of black craft sand on a clean surface and roll the ball in it. Put the ball aside to dry.

Grab the card and draw a circle. Cut it out and then neatly cut the circle in half.

Decorate the trim of the circle with ribbon or glitter glue.

Starting at the bottom, carefully bend the cone into shape and hold it in place with sticky tape.

At the top of the cone, make two holes on either side with a metal needle.

Put the pink pipe cleaner through the holes.

Make a hole in the bottom of the head large enough to fit the point of the cone with scissors and glue in place. Leave the angel to one side.

To make a little book, grab some felt and paper.

Take a silver tinsel pipe cleaner measuring 30cm and wrap it around the angel's neck and bend it up behind the head and crate a halo at the top. Trim any excess pipe cleaner if needed.

Add the googly eyes and mouth. (you can use glitter glue for the mouth, but make sure you lay the head down so the glue doesn't run)

Grab the little book and glue it to the hands of the angel.

Grab your skeleton leaves and glue them together and place at the back of the angel with sticky foam pads.