'It was really important that we got something in place' – Gurm and Arjun's story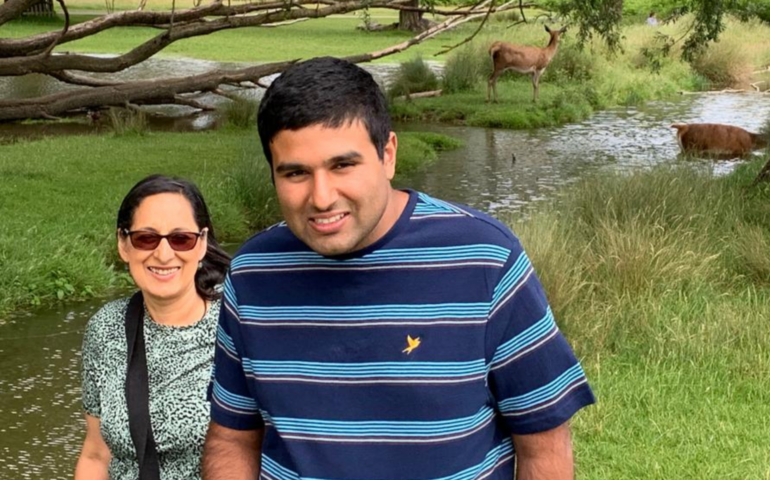 How and why you did you choose this house?
We were looking because as Arjun's getting older, we are getting older, and we don't want to be in a situation in 10 years' time where we couldn't look after Arjun. I didn't want Arjun to be a burden on my two other children.
It was really important that we got something in place like now, so that Arjun would be used to the place and we were happy with what's going on.
This service, this house was under a different provider before and Arjun actually had respite here, so he was familiar with the house, and so was I. Arjun has the same room that he used to have respite in so that was quite good for him.
We wanted somewhere local as we live two minutes away. So it's the locality – we can walk round when we want to. We can visit – it's like an open house. The Service Manager Angelika never says to us 'you can't come'.
The Support Workers are amazing. Considering it's a new service, everyone's really accommodated. There's been teething issues along the line but we've managed to get together, we have talked about things.
All the mums get together as well. We talk about what we want, then we can approach Angelika and say this is how we want it to be done and she's very accommodating.
It's changed our lives because Arjun's happy. We're getting some sort of life together, my husband and I, because the last 23 years it's always been about Arjun. We can in a way work on our marriage again. It sounds silly but you part disconnect because you are looking after your son all the time, so now it's a chance for us to reconnect with ourselves, the rest of the family and lead some sort of normal life, knowing that Arjun is looked after and is in a place that he's happy.
Are you happy?
I'm sad and I'm happy. It's hard letting go because at the end of the day they are still your child. You still want them to be looked after properly and it's only been less than a year, so it hasn't been that long.
I'm happy with the service, I'm happy with what's going on but I'm still sad because I have had to let him go. You still feel guilty that you are not here, when you should be. That's as a parent – it's the same as if you are letting your 20-year-old go to university or something.
In terms of letting go, would you say he was in good hands?
Yes, one hundred percent! It's been very open all the way, very transparent. It's what we wanted – to have that transparency be able to say if something is not right or if we are not happy… to be able to say 'this isn't working' that we could do that.
I'm one hundred percent happy with the place.
This content is part of our Mother's Day series – read more interviews like this.