Keen gardener Alex visits Kew Gardens' community allotment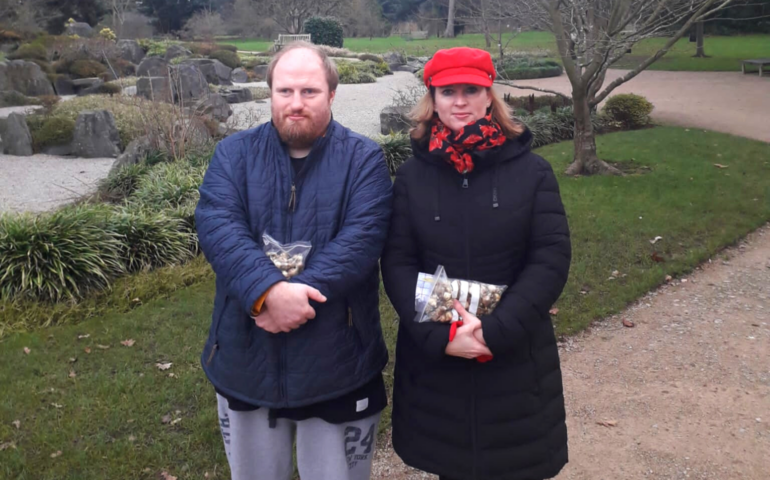 Kew Gardens
One of Richmond's biggest attractions is the renowned Kew Gardens. Kew is home to a large diverse collection of living plants and beautiful architecture. It is also listed as a UNESCO World Heritage site.
As well as the main Gardens, Kew also have a Community Horticultural Learning Programme, based at their allotment at Lion Gate in Kew Road. Here they host monthly practical workshops for those in the community that want to learn gardening and carpentry skills.
Kew also have a Community Access Scheme – a group annual membership for organisations that provide services directly to people 'who face barriers to visiting the gardens independently'.
Last week, staff at The Enterprise found out that Kew Gardens were giving away free plants.
Alex and Team Leader Nora decided to visit the allotment, where they met Community Horticultural Learning Co-ordinator, Jane Rogers.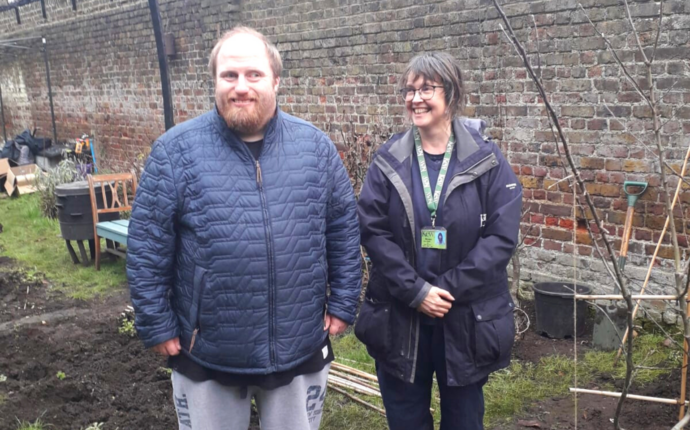 Alex said:
I was delighted that Nora and I went down to the allotment part of Kew Gardens – it was a great day out.

Jane at Kew Gardens gave us a bag of bulbs. That was very kind – I'm looking forward to planting them.

Kew Gardens is an amazing place.
Jane said:
It was a pleasure to meet Alex, his passion for gardening is wonderful and I very much hope he will be joining me on our Discover Horticulture course this year.

At Kew, we are very lucky to have the community allotment. It is a quiet and safe space and working with many gardeners with learning disabilities and autism, I understand how important this can be.

It is always such a treat to see everyone enjoying the allotment, growing vegetables and making friendships along the way.
'I love watching things grow'
Alex has been gardening for over 10 years. He previously worked at the Royal Palace Gardens at Hampton Court and now enjoys tending his own garden at home.
I've a keen interest in horticulture – I love watching things grow.

Being in nature and out in the fresh air makes me feel better. It's good for my wellbeing, it's good for everyone's wellbeing.
Alex attends classes and group activities at The Enterprise, one of United Response's services in Teddington.
When the country was in lockdown, Alex said that being out gardening in the fresh air and listening to bird song helped him to 'stay focused and happy'.
Alex and Nora's visit is just one everyday example of United Response's commitment to growing and developing horticultural and environmental activities for people we support.
In the past few years, we've launched several exciting green and eco-friendly opportunities across the country, from allotments to community food growing and upcycling.
Projects like these are vital for people we support.
They provide fantastic opportunities for Alex and many others to be involved in something sustainable and learn important skills, whilst also meeting people in their local community.
Jenna Lloyd is Digital Content Officer at United Response 
---
Want a rewarding career?We're recruiting across the country now. From support workers to area managers, take a look at the opportunities available in your area. Search United Response jobs
---