Marathon veteran and Croydon nurse plans to run 60 races before she's 60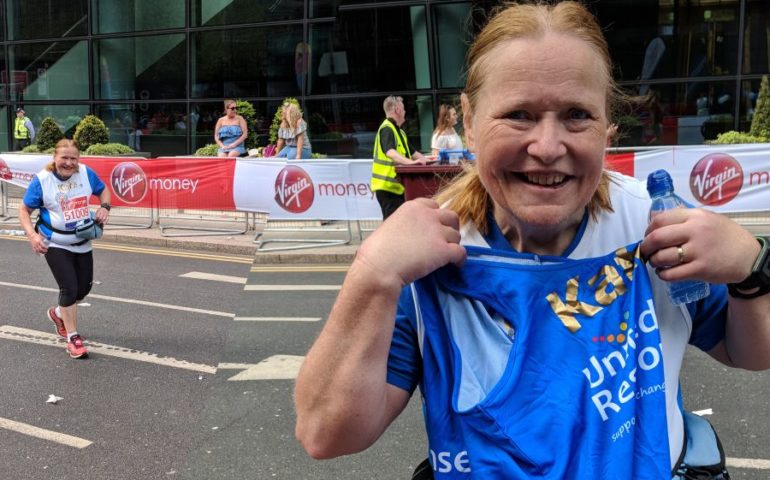 A nurse from Croydon who didn't take up running until she was aged 43 ran the 50th marathon of her life in last weekend's London Marathon – and she now has plans to speed to 60 before she reaches her next big birthday in 2019.
58-year old Kate Knight, who also incredibly ran the Brighton Marathon just eight days before competing in this year's London event, was running for learning disability charity United Response for the 15th time.
She has singlehandedly raised more than £32,000 since 2002 for the national charity, which provides bespoke support for adults and young people with learning disabilities and mental health needs.
Kate finished the 2018 London Marathon in 7hrs 40m in what were unseasonably high April temperatures.
On completing the 2018 London Marathon, Kate said:
"It was absolutely brilliant to be out there again with great support from crowd, other runners, friends and family. I'm feeling fantastic.
"I'm thrilled to be part of United Response's fundraising team and to reach the epic 50th marathon milestone. My next target is to reach 60 in the year of my sixtieth birthday – I'm looking forward to running for United Response for a few more years yet."
Emma Reeves, Fundraising Officer at United Response, said:
"We are honoured to have had Kate as part of our marathon team for the past 15 years. She has raised an incredible amount of money which has gone a long way in helping us improve the quality of life of those we support.
"We are looking forward to being part of her '60 by 60' challenge and seeing where her marathon endeavours takes her next."
Running 50 marathons since 2002 means Kate has competed in an average of more than three events every year for the past 16 years. Her heroics have seen her run marathons in countries right across the world.
For information on how fundraising helps United Response's core mission, visit www.unitedresponse.org.uk/how-your-money-helps.
ENDS
Notes to editors:
For more information, please get in touch with the United Response press office on 0208 246 5237 or press@unitedresponse.org.uk.
United Response is a top 100 national charity that provides person-centred support to around 3,000 adults and young people with learning disabilities, mental health needs or physical disabilities – including some of the most vulnerable people in our society.
Our vision is a society of equal rights and access where disabled people have the opportunity to live the lives they want to lead.
We provide bespoke support, from 24-hour care to a few hours a week, at around 400 locations across England and Wales. We employ approximately 4,000 staff and are regularly recognised with awards for our innovative, high quality range of services.
To find out more about United Response, please visit: www.unitedresponse.org.uk