South Korean disability group travels 5,000 miles to learn from United Response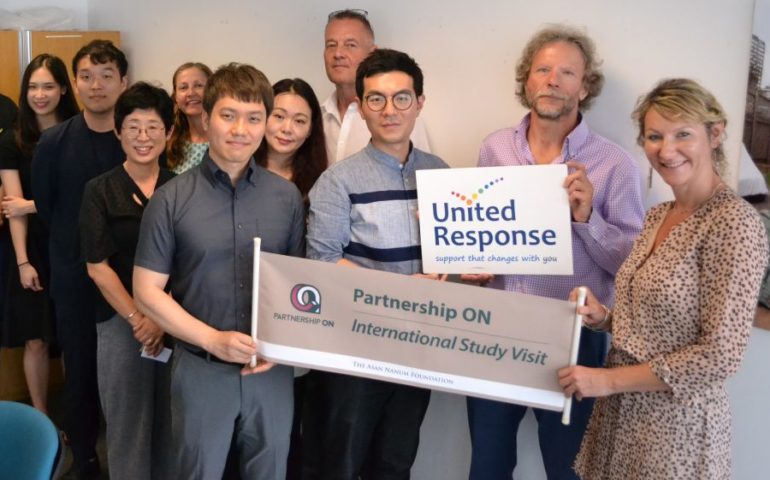 Experts from South Korea have travelled over 5,000 miles to Wimbledon to meet staff from United Response to learn how it is helping to improve the lives of people with disabilities.
The CEO of South Korean non-profit group Peach Market Eui-Young Ham made the journey along with others from his organisation to learn about how United Response provides services and produces Easy News, an award-winning magazine produced and read by people with autism and learning disabilities.
Peach Market produce plain Korean news and easy-to-read books for people with learning disabilities. They are supported by the Asan Nanum Foundation – a public welfare foundation founded in 2011 and supported by South Korean automotive giants Hyundai.
Eui-Young Ham said: "We were interested in easy language and have known about United Response for a long time because of Easy News.
"We came here because we want to learn and build a partnership with United Response.
"I was very impressed. United Response was way bigger than I expected and have a lot of activities for people with learning disabilities. We learnt a lot of things. I was especially impressed by United Response's work with writing Easy News.
"After we get back to Korea, I want to follow their process."
Easy News is read by almost 5,000 people, published every two months and is the first news magazine designed to be accessible for people with learning disabilities. It uses simplified text and pictures to create accessible and impartial summaries of important news stories to encourage discussion and to keep readers informed about the world around them.
Tim Cooper, United Response CEO, said: "We're incredibly proud that our Easy News magazine has caught global attention. It truly reflects the reach and influence of the trailblazing magazine and could perhaps serve as an example of how to engage people with autism and learning disabilities in South Korea.
"There is so much which both organisations can learn from other and so we're very much looking forward to building a positive and mutual relationship with them."
There are an estimated one million people with learning difficulties in South Korea. Peach Market also works to improve literacy and empower those with disabilities with reading programs with schoolchildren, mentoring special education teachers, a book club and a campaign for all libraries and schools to stock its books.
To find out more, visit www.peachmarket.kr. To access United Response's Easy News magazine, visit www.unitedresponse.org.uk or subscribe to the charity's e-newsletter.