Support worker Gary Clarke prepares for Britain's Disabled Strongman 2021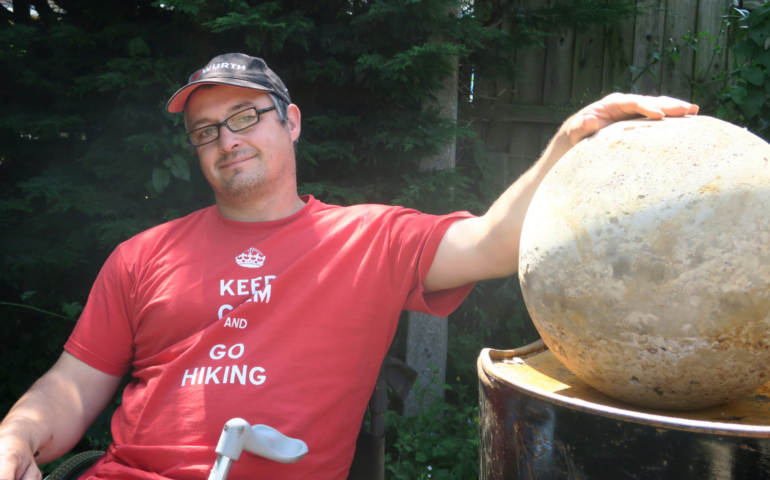 Gary, who has cerebral palsy, has been a fan of Strongman competitions since he was a child. He started lifting weights as a teenager and he was 24 when he competed in his first event which was bench press.
Gary started working for United Response in 2011 and just a few weeks later, he went to Iceland to compete in The World's Strongest Disabled Man competition.
I feel like I can relate to a lot of what some of the people we support go through due to my own disability. My parents had to fight a lot for me when I was growing up to get me to where I am now.

It's just good to make a difference for people. The people we support are great and it's a joy to be there, it really is.
Having attended and competed in several Disabled Strongman competitions, Gary finally made the decision to launch Britain's Disabled Strongman in 2015.
Last year's event was unfortunately cancelled, due to ongoing Coronavirus restrictions.

With more spare time, Gary spent the summer learning new Strongman skills including welding and stone crafting. He also raised money for the NHS with a sponsored 'stone load' challenge.
Britain's Disabled Strongman 2021
This year's event is set to go ahead on Sunday 5 September at Holyrood Academy in Gary's hometown of Chard, Somerset.
Both men and women will compete in different weightlifting events including the max log lift, axle deadlifts, the front hold, the giant dumbbell press and the stone medley, which comprises of a mixture of atlas stones and natural stones.
Read the transcript: Meet Gary Clarke, Britain's First Disabled Strongman
Training as a Strongman
As someone with cerebral palsy, Gary competes in the seated neurological class.
He says his biggest inspirations are athletes Magnús Ver Magnússon and Arnar Már Jónsson.
Gary trains at least four days a week in his home gym and he says his favourite event is the stones:
Taking part in the disabled Strongman competitions makes me feel like I can accomplish anything. It keeps you focused and it keeps you moving forward.
His advice for anyone who wants to take up powerlifting?
Don't let anybody tell you that you can't do something because you can – just believe in yourself. Just because you've got a disability or any kind of impairment, it shouldn't stop you.

We find ways around things and that's what Disabled Strongman is all about.
This blog is part of our Summer of Sport series where United Response shines a spotlight on disabled and autistic athletes and speaks to sports and fitness fans across the country.
We'll also be looking at accessibility and the best ways to support people with disabilities, autism and mental health needs to take part in sports, fitness and exercise.
• Jenna Lloyd is Digital Content Officer for United Response.