The United Walk: 5 – 11 April 2021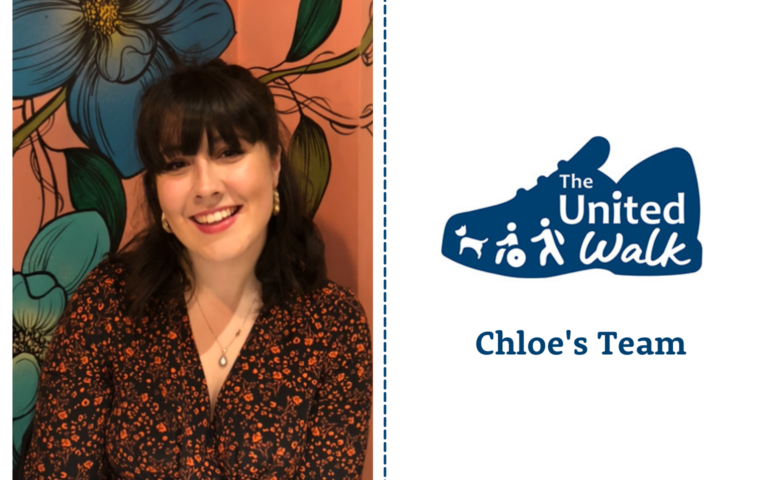 One of the teams taking on the challenge is led by one of our support workers in Teddington (Chloe).
She was already thinking of taking on a walking challenge before she heard about The United Walk and had this to say:
Walking is something we are all doing a lot more of recently due to lockdown, making it into a challenge is going to bring out the competitive side to everyone and get us all walking that little bit further! I'm definitely going to use the challenge as a way to find new routes to walk. I'm excited to see what songs are going to be on the playlist too – music always helps!
(To support Chloe's team with their walking challenge, you can donate and choose a track for their Spotify playlist.)
Chloe will be joined on the walk by Alex and Josh.
Josh said:
I haven't been able to go in shops since the start of the first lockdown. Going for long walks with support workers on my one to ones has been one of the things I have been able to do lately, and helps me take my mind off Coronavirus. I especially like walks down the river.
Alex added:
I was thinking about how far we should go and where. I thought a nice route would be along the river to Teddington Lock, over the bridge, then back along the river to Kingston Bridge. I think it will be a nice walk, especially if it's sunny.
Good luck Team Chloe – we can't wait to see how you get on!

Want to take part in The United Walk?
The challenge can be set by you but we recommend aiming for 5, 10 or 20km.
It's simple to join, just create your fundraising page, start sharing it and you'll be ready to get your walking shoes on!
On the 5 April there will be a leaderboard on the event page so you can track your progress against the other individuals and teams.