Uplifting theatre productions showcase real emotion and humour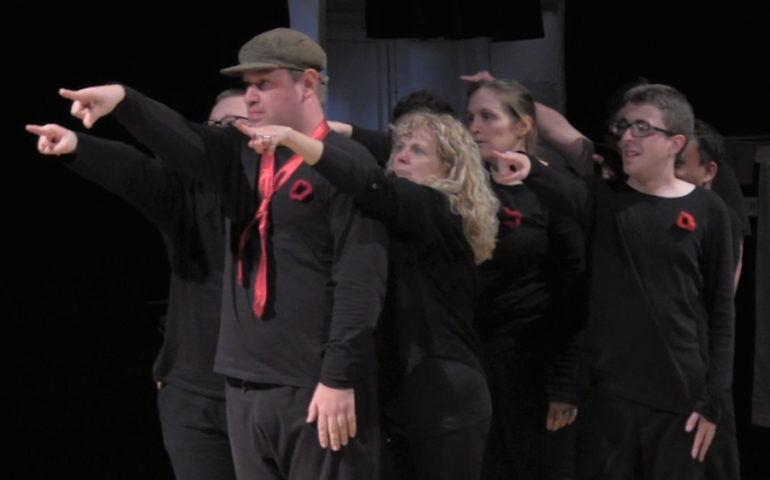 The performers and staff at ROC Creative have worked for over two years, researching and devising material, to put together this incredible piece of theatre. It far surpassed any expectations for me and I feel proud to work with such amazingly dedicated, professional, creative and inspiring people!
James Foster – ROC Creative performance: November 2019
From the opening line of this performance you are taken on a fictional journey of one man's life, named James Foster. Through the joy, pain, the devastation of war, fatherhood, loss and ultimately his death.
James Foster was born in 1896 and goes to war at just 18 years old. Unlike so many others, he survives World War I and returns home. The story of his entire life is encapsulated in this fantastic performance.
James Foster's feelings are delivered in a powerful and captivating way, together with touching on the lives and personalities of others around him.
The audience get a taste of the society of the time and see how it changed, post war. Newly married and like so many couples of that period, he had a large family.
Tragically he endured the loss of his beloved wife through childbirth. He was plunged into a world of single parenthood and became responsible for nine children.
Each step of his journey is told sympathetically and skilfully, telling the trials, tribulations, highs and lows of his life.
"When watching this performance you will feel real emotion, moments of humour and uplifting celebration!"
Bread – ROC Creative performance: November 2019
This wonderful performance visually shows the juxtaposition in society, between the Bread Riot of 1846 in Devon and 'The Beast from the East' bread shortages of 2018.
The lead character 'John Shaker' is a devious, young man who steals a loaf of bread from a supermarket, following mass panic buying, due to the bad weather.
Running from his crime, he slips, banging his head, which mysteriously transports him back in time to a period of real deprivation. This was in the midst of the 1846 bread riots, which came about from a poor harvest. This saw the working class of society starving, with the aristocracy still having plenty.
The tale skilfully portrays the moral of how we should be grateful for what we have, acknowledging the reality that no bread equalled death in 1846. However, in 2018 it is not such a necessity, but a basic we have come to take for granted.
Forced to take a voyeuristic view of events from the past, John Shaker returns to the present, determined to start a new life a better man.
This thrilling piece of work is thought-provoking and brings home the message of how lucky and privileged we are, in the majority of today's British society.
"Both performances were shown back-to-back and perfectly demonstrated how anyone with a learning disability, can perform, achieve and professionally create outstanding work. This breaks boundaries and diminishes any pre-conceived perceptions of their capabilities".
Blog written by Lisa Tomlinson, ROC Creative: Support Worker
Directors: Anita Line and Stephanie Bullock
Supporting Drama Facilitators: Cheryl Cooper and Helen Drew
Technical Lead/Marketing: Hope Trimmer
Music: contributions of original work by the Music Department
Theatrical Props: produced by the Art Department
All the above are staff at ROC Creative, Paignton, Devon.