Wellbeing Ambassador Nora takes on the Richmond Runfest and becomes a JustGiving fundraising legend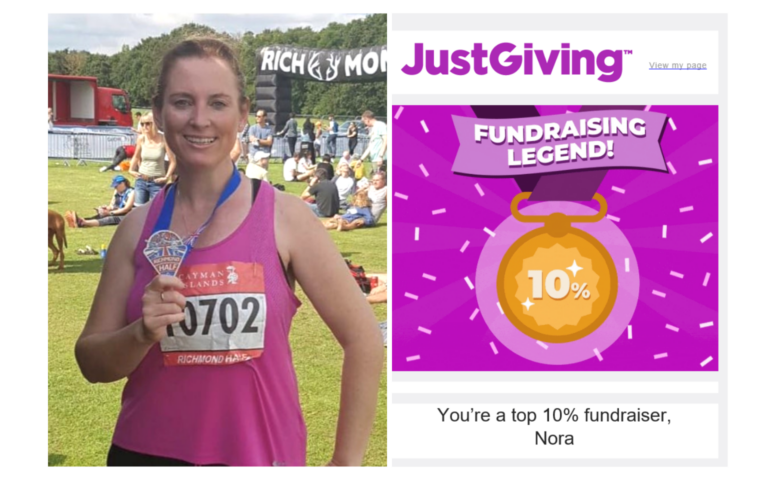 In September 2021, Nora and her colleague Dan Bell took on the challenge of running Richmond Runfest – a half marathon across Richmond which starts at Kew Botanical Gardens and finishes at Old Deer Park.
As both a Wellbeing and Diversity Ambassador, she wanted to set an example:
"It wasn't for me. I told people we support from my Wellbeing sessions that each mile I was going to run would be for them. I'd made a commitment and I couldn't give up."
Why become a fundraiser?
It took several weeks of training for Nora to prepare for the race, but she said the reward made it all worthwhile in the end:
"I wasn't a runner as such – I certainly wasn't a half marathon runner!
"But when I did cross the finish line, the people we support and the team were there clapping and cheering.
"It really made me feel like I did something worthwhile, especially in light of the pandemic.
"Now when people talk about 2021, I can say that I did a half marathon to raise money for the people we support at United Response. That reward is priceless."
Between the two of them, Nora and Dan raised over £1700.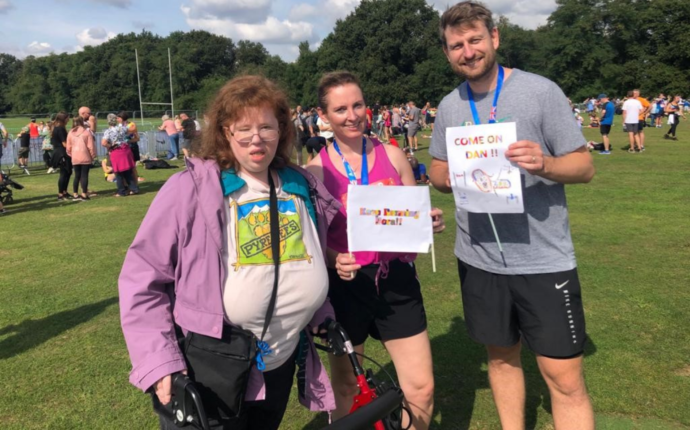 "Everyone was really encouraging. Dan and I were delighted with the generous sponsorship and appreciation from Chief Executive, Tim Cooper and our Area Manager, Michael Condon.
"Our colleagues were extremely supportive and motivational, too. Enterprise Manager, Matthew Campbell, the support team, and the people we support were our main cheerleading squad – it was lovely!"
Supporting people – thanks to the power of fundraising
The money went towards providing more community activities for the people we support.
"It is so fantastic to see the money we raised in action," she said.
"You can see someone's mood lifting and their day brightening – when people we support have a dance, karate, keep fit, relaxation, pottery, drama, art or a creative writing session at The Enterprise.
"You can feel the energy shift. They become happier, motivated and like they can overcome anything."
She added:
"It's beautiful for people we support to come somewhere where they can be creative, relaxed, have fun, be themselves and not be judged.

"That's where the money goes – investing in the people we support and their wellbeing. That's my job. That's what I've made my job to be and I'm happy when I've done that."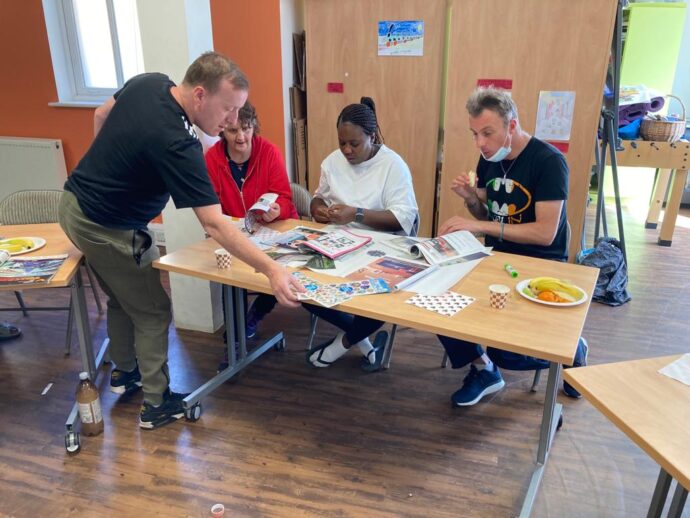 A top ten fundraiser
Nora was recently contacted by JustGiving to say that her page was in the top 10% of fundraisers during that month.
She credits a lot of her success to doing something people didn't expect:
"It was way out of my comfort zone and the fact it was made my family and friends sit up and pay attention. I think that's why I raised so much money!"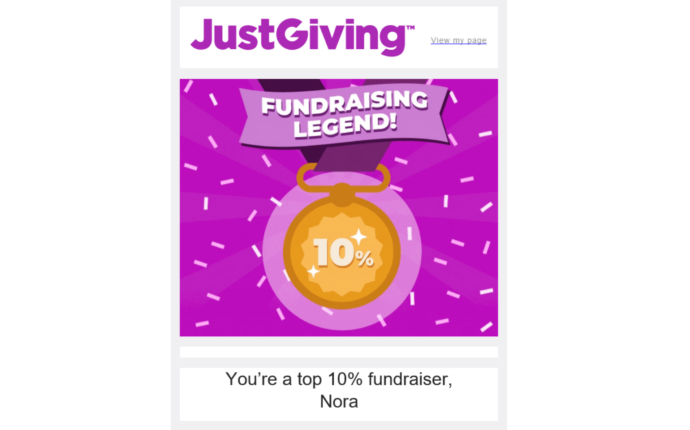 As well as the money, Nora says that the fundraising activity also helped spread the word about United Response:
"It also helps to raise awareness of who we are and what we do. I got messages from people, and even on the day, talking to other runners, everyone was saying what a good cause this is."
Nora and Dan will be doing a warm-up 10k at Victoria Park on Sunday 13 March, ahead of raising money for us at Richmond RunFest again in September.
We're proud to have them on Team United Response and we'll be cheering them on every step of the way!
Has Nora inspired you to take part in a fundraising event?
Take on a fundraising challenge for us: https://www.unitedresponse.org.uk/get-involved/take-on-a-challenge/
Or why not create your own event? Send your event idea to Fundraising@unitedresponse.org.uk and a member of our Fundraising team will help you get started.
Jenna Lloyd is Digital Content Officer for United Response.