A look back at end-of-lockdown celebrations
Many people we support had not been able to see family and friends for a long time so when the opportunity arose to get together safely outside, that's exactly what they did!
With a little help from funding, services across the country were to celebrate together, throwing parties, picnics and BBQs.
We spoke to services in Bradford and Littlehampton about the amazing parties they had earlier in the year.
SLB's got talent!
When some of the restrictions were lifted in October, one of our Bradford services put on a talent-show themed party called 'SLB's Got Talent'.
People we support invited family members and friends. They took turns performing for their guests and were given prizes for showcasing their various talents. Party-goers also enjoyed a lovely BBQ lunch and a raffle.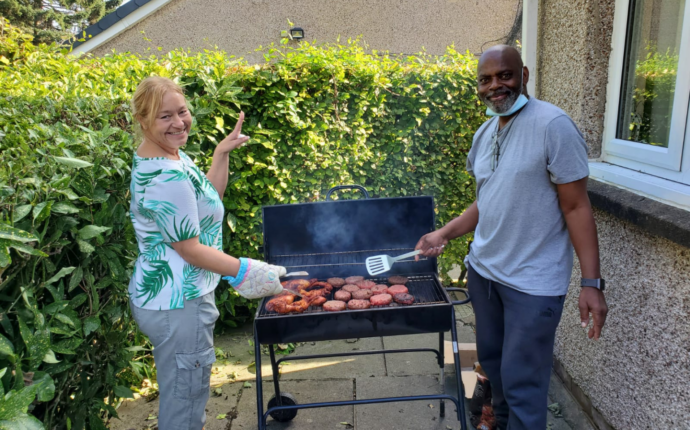 The party was held outside in the garden to ensure that it was Covid-safe.
The service were able to get some funding from our Small Sparks scheme, which allowed them to buy two gazebos, food and even a karaoke machine – which was well-used on the day!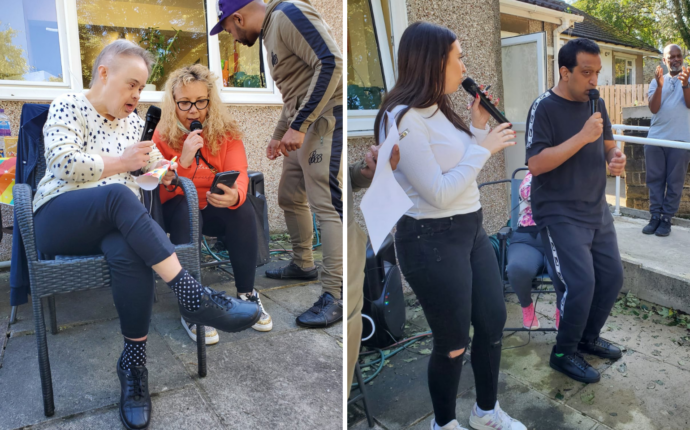 Sarah, who is supported by United Response, said:
I enjoyed singing and dancing. I also enjoyed making some of the food.
While most people chose to sing, Dani did a speech about her journey since moving into one of our services five years ago.
Dani said:
I was happy with how my speech went. I was nervous but enjoyed doing it.
Service Manager Denzel Gumpo told us:
Dani's speech was lovely and showed the amazing work the staff team have done in supporting Dani to progress to the independent, confident person she is today.
The party was a huge success and even raised £215 in donations, which the service would like to use towards future events for people we support.
---
Want a rewarding career?We're recruiting across the country now. From support workers to area managers, take a look at the opportunities available in your area. Search United Response jobs
---
Party in the Park
Services in Littlehampton and East Sussex made the most of the summer Bank Holiday this year as people we support were reunited with their friends and family at a 'Party in the Park'.
The lockdowns had a huge impact on the people we support so it was wonderful for everyone to see their loved ones again. Spirits were high and everyone had lots of fun singing, dancing, socialising and playing games together.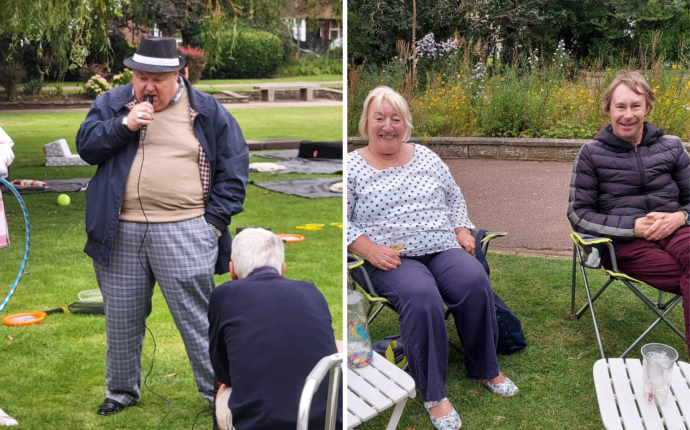 The party organisers were able to make the day even more special, thanks to a bit of extra funding. They bought some party games, a projector and screen for an outdoor cinema, a gazebo in case of rain and plenty of food for the day.
The party gave everyone an opportunity to make happy memories, especially after a difficult 18 months.
Staff at the services have received thank cards from those who attended the event and people we support have been talking about it ever since.
Mrs Singleton said:
It was an excellent event, so friendly and relaxed – with a 'splendiferous' spread at the barbecue itself.

We were so glad that all the family managed to be there.

An occasion like that takes a great deal of preparation but it is very much appreciated. Thanks and congratulations to all staff and residents who were involved.
Laetitia Nnalue is Marketing and Communications Officer at United Response
Donations
Your donation will have a huge impact on the lives of some of the most vulnerable people in the UK.
£12 could pay for an hour of job coach support to help someone with autism into a job
£22 could help run a taster sign language session within the local community widening communication for many people we support
£60 could pay for tools for people we support to use on one of our horticulture projects such as Boscawen Farm in Truro, or our allotments in Bristol and Blackpool
This content was part of our Christmas2021 series.