Access for all: help us provide technology to more people with disabilities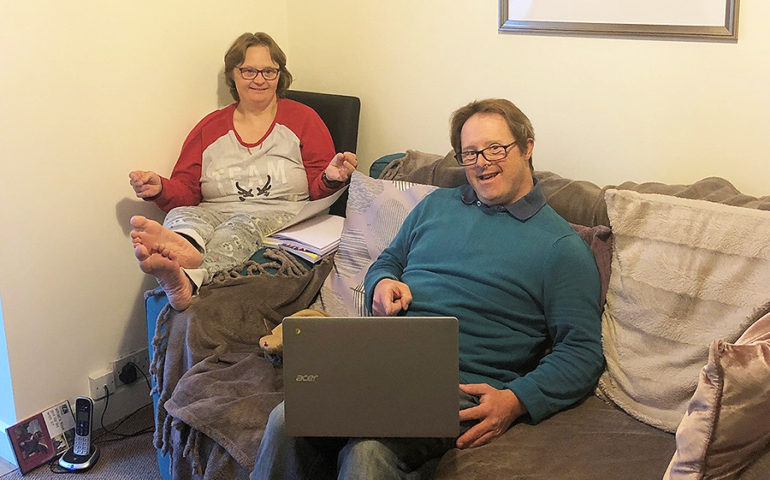 This year has shown everyone just how important technology is for keeping in touch with family, friends, loved ones, and even colleagues.
However, people with disabilities do not have the same access to vital communications technology as the general population.
You can help us to change this.
Your support can help us provide more people we support with access to technology so they can communicate with loved ones and others.
How your donations help people with disabilities
Earlier this year donations from supporters like you provided laptops for use by twelve people across two of our services in West Sussex.
The laptops helped people to speak with their family and friends regularly during lockdown. They were also able to join in with online activities, such as exercise classes and social events, organised by United Response and other organisations.
I really enjoy the laptop – I am able to watch films with my friends and keep in contact with my friends and family over Skype and Zoom. I was also able to work out how to work the computer quickly – I am very proud of myself. For the first time, I am sending emails to friends and family and using Zoom about 3 times a week.

Julian
I enjoy being able to listen to all types of music on the laptop with my wife Sheila – we dance around our living room listening to it. I am also really proud that I am able to work the laptop without staff support. I also print my art supplies off of the computer through our printer – I enjoy this because I can draw/paint what I like.

Bill
Donate this Christmas
Donate today and help ensure that people we support have access to the right technology so they can more easily stay in touch with family and friends.
£25 could contribute to a tablet to enable people to keep in touch with family and friends throughout their home
£100 could go towards a laptop for one of our supported living services