Bristol allotment is 'essential' for people with disabilities and the local community
After a year of lockdowns and restrictions on people mixing indoors, accessible outdoor space is all the more critical for people with disabilities.
Across the country, United Response delivers horticulture, health and wellbeing services through our community gardens, allotments and farm projects.
We recognise the therapeutic value of time spent in the natural environment, and the link between good health and good food.
Teaming up with Potter's Den Blackpool, our large allotment in St George, Bristol now goes by the same name: Potter's Den Bristol.
Physical and mental benefits
There are huge physical benefits to be had from 'green exercise'.
Our allotment offers a safe and secure space for people to mix socially, make new friends and learn practical skills to help the people we support gain skills and greater independent.
Gardening improves physical health through exercise and can help people with reduced mobility learn how to use or strengthen their muscles.
Active interest in conservation and the environment can be part of a rehabilitation process and alleviate the deterioration associated with degenerative conditions.
Most of all, people simply feel better from being outside in the fresh air, being in touch with nature and from being out and about with others in the great outdoors.
Craig and Adam love Potter's Den
Craig and Adam are best friends and housemates, sharing a house in one of our Supported Living services in Bristol.
Adam has been supported by us since 2017 and is very excited about the Potter's Den project. He said it made him feel "excellent and happy".
He is very keen to develop a "decking area, pond, veranda to sit under, lots of nice plants and vegetables". His main goal is for the allotment to "be a nice place to chill".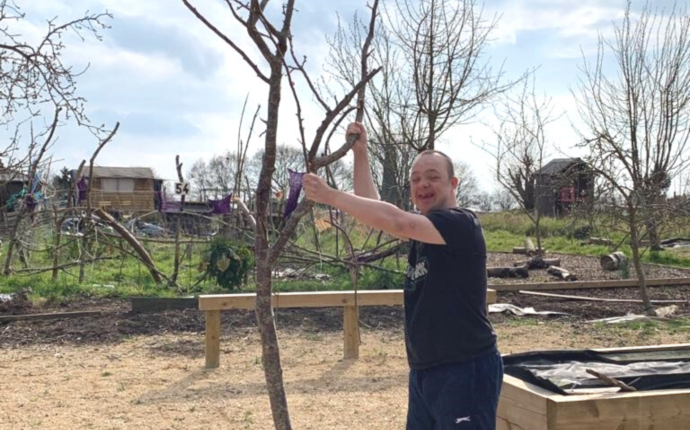 Craig's mum, Gail said:
Craig has always flourished in the outdoors, where he is always thrilled with whatever he may be doing.

Fundraising to support the Potter's Den allotment in Bristol is so very important not only for young individuals like Craig but for the whole community.

Let's help this essential enterprise wherever and whenever we can!
Support Potter's Den, Bristol
Donate today and help ensure that people like Craig and Adam can continue to enjoy the Potter's Den Service in Bristol.
£25 could pay for a potting table
£50 could purchase a wheelbarrow
£100 could cover the costs of four gravel boards
£250 could pay for arts, crafts and cooking activities