Charity workers appeal to Blackpool shoppers in Tesco grant bid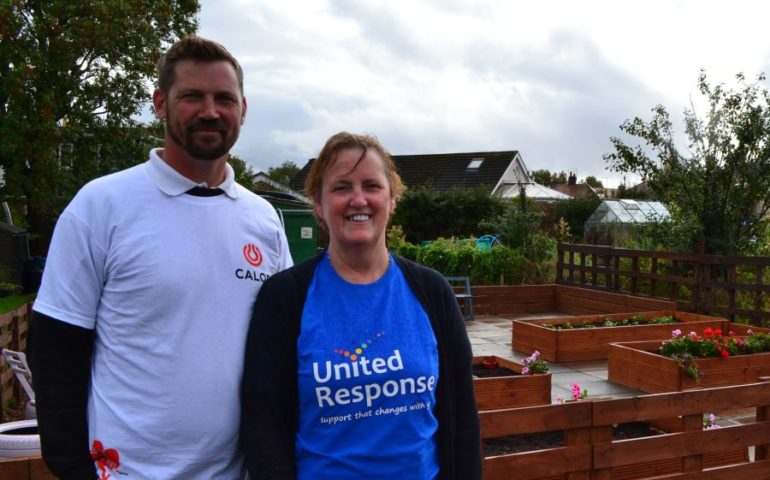 United Response charity workers are calling on Blackpool shoppers to vote for them to be awarded a generous cash boost in Tesco's Bags of Help community grant scheme.
The funds will go towards the charity's allotment, on Cherry Tree Road, designed for people with autism and physical and learning disabilities.
Tesco teamed up with Groundwork to launch its community funding scheme, which sees grants of £4,000, £2,000 and £1,000 raised from carrier bag sales in Tesco stores awarded to local community projects.
Three groups in every Tesco region have been shortlisted to receive the cash boost and shoppers are being invited to head along to Tesco stores to vote for who they think should take away the top grant.
United Response in Blackpool is one of the groups who have been shortlisted. The charity is seeking to develop a communal garden for people they support who have disabilities and the local community.
Development Co-ordinator for United Response, Tracey Fletcher, said: "By creating a shared space, we hope to encourage community inclusion.
"People we support rarely have the opportunity to meet and interact with other people. Social isolation is one of the main problems faced by people with disabilities. It can impact on their wellbeing and we know from speaking to people we support that there is a lack of affordable and meaningful activities.
"People in Blackpool with disabilities want to be included in their local communities and so, by getting enough votes in the Bags of Help scheme, we'll work towards meeting this need.
"We would be incredibly grateful to anyone who supports our charity in Blackpool by voting for us. By doing so, you could help make a difference to people including some of the most isolated and marginalised in society."
The disability charity plans to transform a disused yard into a vibrant community garden and wildlife area which would provide volunteering opportunities and arts and crafts workshops.
Voting is open in all 19 Tesco stores in the seaside resort from March 1st to April 30th and customers will cast their vote using a token given to them at the check-out in store each time they shop.
Alec Brown, Head of Community at Tesco, said: "Bags of Help has been a fantastic success and we've been overwhelmed by the response from customers. It's such a special scheme because it's local people who decide how the money will be spent in their community. There are some fantastic projects on the shortlists and we can't wait to see these come to life in hundreds of communities."
Groundwork's National Chief Executive, Graham Duxbury, said: "Bags of Help continues to enable local communities up and down Britain to improve the local spaces and places that matter to them. The diversity of projects that are being funded shows that local communities have a passion to create something great in their area. We are pleased to be able to be a part of the journey and provide support and encouragement to help local communities thrive."
United Response is a top 100 national charity that provides person-centred support to around 3,000 adults and young people with autism, learning disabilities, mental health needs or physical disabilities – including some of the most vulnerable people in the UK. To learn more about United Response, visit www.unitedresponse.org.uk.
Tesco's Bags of Help project has already delivered over £40 million to 9,700 projects across the UK. Every other month, when votes are collected, three groups in each of Tesco's regions will be awarded funding.