Life changing: why Team GB swimmer Florence Garrett is backing the Down Syndrome Bill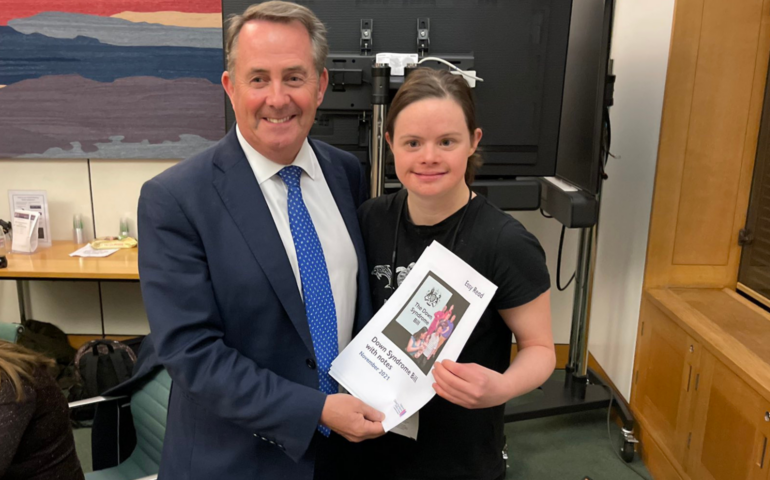 Florence Garrett is a professional swimmer and co-captain of the Down Syndrome Swimming Team for Great Britain.
She has several part time jobs in London and Brighton and also volunteers as a swimming coach.
Florence is very passionate about politics. She's previously spoken out about the need for easy read voting materials, as part of our Accessible Voting campaigns.
Florence recently joined the National Down Syndrome Policy Group (NDSPG), who are campaigning to generate support for the Down Syndrome Bill.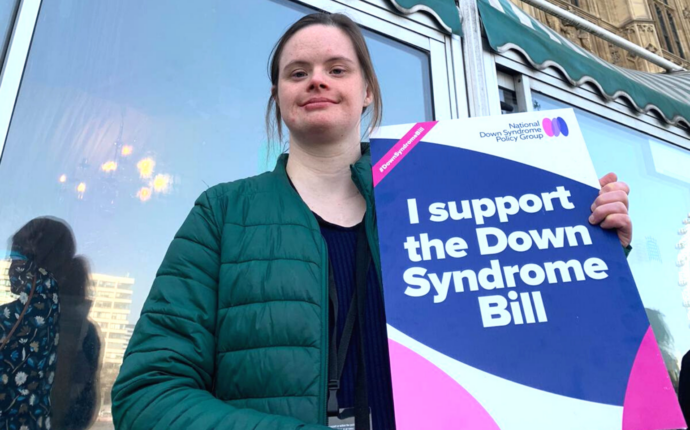 What is the Down Syndrome Bill?
This is a piece of legislation which aims to 'destigmatise Down syndrome and re- educate both the public and professionals about the advances, including in life expectancy, that have occurred in recent decades'.
The Bill will be the first of its kind if it's passed in law. It would mean that the government will give special guidance on how local authorities and the NHS can meet the needs of people with Down syndrome.
Florence said:
People with Down syndrome get different types of support depending on their abilities. Some people get more support than I do.

The Bill will provide support to help them to be independent, for example, if their parents die.
The Bill is now on its third reading in the House of Lords.
It was put forward by the MP for North Somerset, Dr Liam Fox and even Prime Minister Boris Johnson has announced his support:
Florence explained why the Bill is so important to her:
The Down Syndrome Bill would change everything – it would change everyone's lives. If we have equality, each person would have a good opportunity to get support.

Not just Down syndrome, people with other disabilities should get support too.
Famous faces like Tommy Jessop and Heidi Crowter have also been part of the campaign, which has caused a lot of conversation on social media.
Florence was interviewed by CBeebies presenter George Webster for BBC Morning Live:
Florence's future plans
Florence will be training over the summer for swimming competitions taking place at the end of the year, including the 10th World Down Syndrome Swimming Championships in October.
When she's not working, training or campaigning for change, Florence likes to visit our Teddington service The Enterprise to meet up with her friends and take part in activities:
"I like United Response a lot. When I'm feeling down, I always go because it always cheers me up.
"I've made so many friends at United Response including Kayleigh, Sam, Phil and my housemate George."
---
United Response's view on the Down Syndrome Bill
There have been calls from the learning disability community, campaigners and politicians for the Down Syndrome Bill to go further to include all learning disabilities. Some people are worried that the Bill could lead to preferential treatment and limit access to support for other learning disabilities.

But it is widely acknowledged that the Bill has raised awareness across Parliament of the issues facing people with a learning disability, which we believe, can only be a good thing.

As Florence has suggested, the Bill is a sign of hope that we are making positive progress to ensuring all learning disabilities get the recognition and resources needed to enable people to thrive.

Last week in the House of Lords, Baroness Hollins posed the challenge that now is the time for a unified learning disability strategy.

United Response supports this call and we will continue to listen to people we support and their families as the Bill moves through Parliament, making sure that any future consultations and guidance are informed by the views of people from across the learning disability community.

You can email us to share your thoughts at: campaigns@unitedresponse.org.uk
Jenna Lloyd is Digital Content Officer for United Response.
(Cover image used with permission from the National Down Syndrome Policy Group.)