New allotment in Blackpool thanks to gas company workers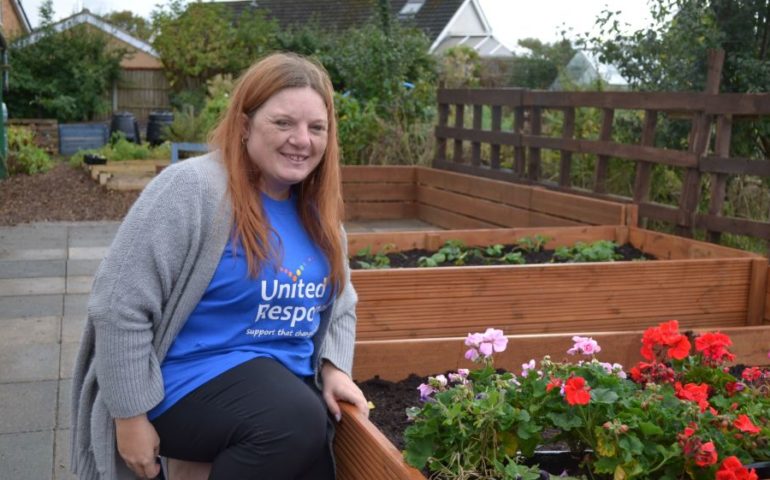 Staff are celebrating after workers at a gas company gave up their time to help build an allotment last week for people with profound physical and learning disabilities.
A team of 10 from the LPG supplier Calor Gas have spent the past week [September 10 – 14] giving a makeover to a half-a-plot garden on Cherry Tree allotments, near Cherry Tree Road. Now it is complete, people who live in Blackpool and are supported by United Response will be able to grow plants and vegetables.
United Response Blackpool team manager Jennifer Whittaker said: "We are thrilled to see so many people from Calor Gas take time out to help make a difference to people's lives.
"It will enable people we support – many of whom have high needs and require lots of care – to grow their own plants and vegetables. It is activities like these that can give people more independence, greater happiness and improve quality of life."
Charity workers and service users celebrated the restoration work at the allotment last Friday by hosting a garden party with activities including a tombola, painting, arts and crafts.
A spokesperson for Calor Gas said: "We are passionate about creating and maintaining good relationships with the people living and working in our local communities.
"United Response is a charity which works across the country and Blackpool to help people with a range of disabilities to live their lives to the full.
"We are incredibly proud of our staff taking time out to support such a worthy cause."
Calor Gas's 'Start from the Heart' scheme encourages all permanent staff to give something back to their local communities. It gives employees one day's paid leave each year to take part in an activity which will make a difference to their community.
Costs to refurbish the allotment were covered by a 'Small Sparks' grant of £845 from The Clothworkers' Foundation – a philanthropic organisation who donate funds to UK charities which improve the lives of people and communities facing disadvantage. Resources including soil, decking and flowers were donated by the local B&Q store on Preston New Road.
Jennifer added: "We really want to say a massive thank you to the workers for their time and effort.
"As a charity, we need the public's goodwill to help us do the very best we can for people who often have many complex needs and who are in need of care 24 hours a day, seven days a week.
"You could also help to make a difference to the lives of some of the most vulnerable people in the UK by making a donation through our website.
"As a leading non-profit social care provider, our work can sometimes be challenging but with extra funds, we can help further support people with physical and learning disabilities or mental health needs to live enjoyable, meaningful lives."
Visit www.unitedresponse.org.uk/donate/donate-now/20 to help support United Response. For more information about the charity's work, visit www.unitedresponse.org.uk.
The charity is also able to provide support at home and in the community or facilitate day-to-day activities for those in Blackpool and Lancashire. To make a support enquiry, call 01253 340 569 or email info@unitedresponse.org.uk.