Defeat social distancing: donate for devices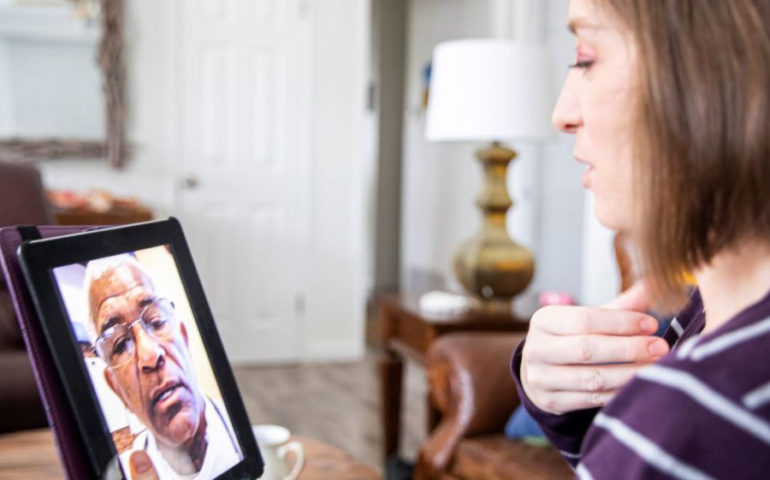 Everyone is doing their bit to fight against the spread of the coronavirus. We're all sharing the experience of separation from friends and loved ones as the lockdown continues. And keeping in touch has become a big challenge.
Donate to help us keep people connected here.
Impact on people with learning disabilities
It's become even harder for people with learning disabilities to be active in their local community. For many people we support, the routine of classes, community groups, workshops and weekly shopping are integral to their health and wellbeing. But visits, social events and normal weekly activities are out of the question for the foreseeable future, seriously disrupting people's day to day lives.
People we support are also dealing with the new reality that family and friends can't visit them in their homes. For many, social contact is now limited to support workers and housemates.
Staying in touch online isn't accessible to everyone
Connecting online can be a great way to keep in touch and combat loneliness. But technology for video calls and online messaging is not always accessible for people with learning disabilities. People need support, specialised software, and training to get going.
And do to this, the people we support need smartphones, tablets, and laptops, as well as the adaptions needed to overcome barriers in communication. Without this technology, people can be cut off from their friends and families.
Social care isn't just about basic needs
During this national crisis, the Government has passed emergency laws and earmarked additional funding for care. But social care is not just basic provision to support for people with disabilities to live. It's about improving lives, and enabling people to be independent, make choices and live life to the fullest.
We're doing our best to raise social isolation with the Government's social care teams to see if they can include this support; for access to devices and technology to be part of their response to help the care sector.
Help us keep people connected
Thank you to everyone who has supported our Keeping People Connected campaign so far. You've helped to raise a fantastic amount – over £11,000.
This money is transforming lives by providing tablets to enable people to see their loved ones, helping us use internet radio to keep in touch and enabling us to support people in virtual reality when we can't be there in person.
It's not too late to get involved yourself and help even more people stay connected with their family and friends.