Man with Down syndrome braves 80ft plunge from a bridge to raise money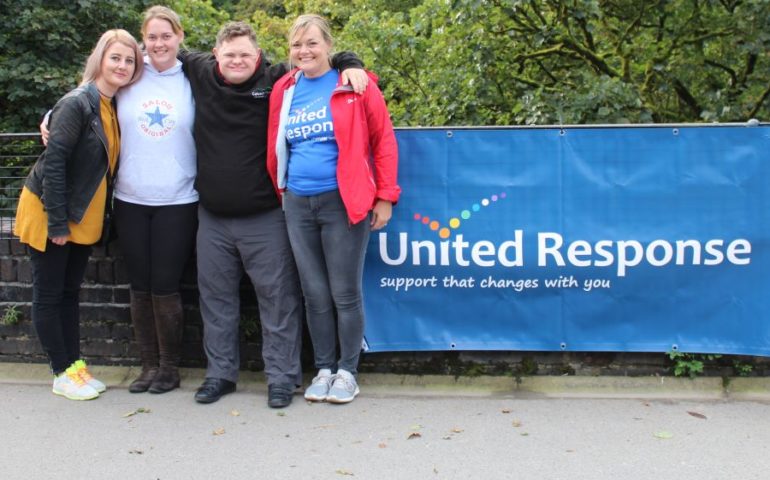 A man with Down syndrome has abseiled 80ft from a bridge in the Peak District to help raise vital funds for United Response.
Nat Gaskell, aged 24, braved the plunge from the Millers Dale Bridge last Sunday as friends and family cheered on. He raised £356 including gift aid for United Response – a national charity which supports people with autism, Down syndrome, physical and learning disabilities.
Nat also has speech and understanding difficulties and has lived in supported housing in Chesterfield run by the charity for the past four years. Support workers work closely with him to give him the skills to live as independently as possible.
He abseiled three times from the bridge and was one of six people who took part in the event. They raised a combined total of nearly £1,500 with more funds still to come in.
Nat said: "I'm a fun-loving, cheeky monkey who is always up for a laugh and a joke. I was really excited to take part in the abseil.
"First I was a little scared to try it but it was good and I felt like Mr Strong."
Darren Worthy, fundraising manager for United Response, said: "This challenge was a sure way to test your nerve and deliver one of the biggest adrenaline rushes of your life. Nat did brilliantly and showed that he was braver than anyone else who abseiled on the day – he was the only one to abseil three times!
"It's an incredible achievement and he has raised money for such an important cause so a massive thank you to him and everyone who sponsored him and the other abseilers."
The money he has raised will help the charity to do everything from providing 24/7 care to people with profound disabilities to helping others to find their first jobs as part of its employment service.
Anyone who wants to help United Response make a difference can do so by making a donation through their website. With extra funds, they can help further support some of the most vulnerable people in society to live enjoyable, meaningful lives.
Visit www.unitedresponse.org.uk/donate to help support United Response. For more information about the charity's work, visit www.unitedresponse.org.uk.