Keeping people we support safe and well during the pandemic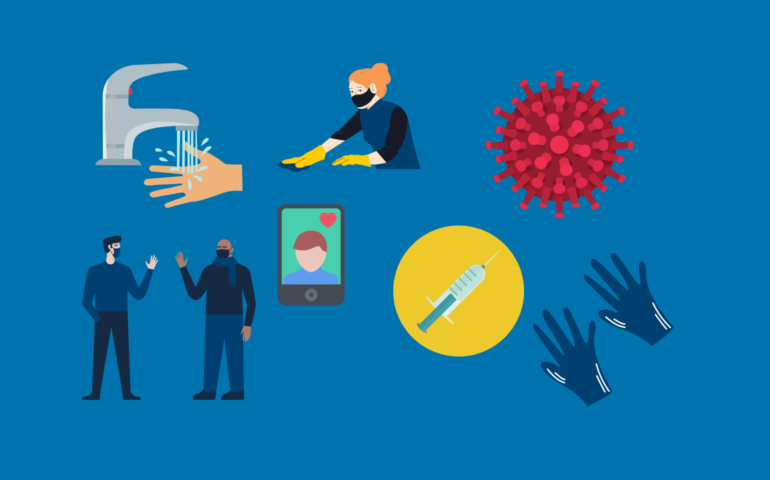 With a third lockdown and further restrictions for many, I wanted to take the time to write directly to families of people we support.
I understand that many of you may be worried and frustrated about the current situation and I know that this has been a long and difficult journey. But we have done this before, and as an organisation, we know that we can do it again.
I want to reassure you that we are working hard and doing everything we can to keep your loved ones safe. Our teams are doing whatever they can to make sure that people receive quality support. They have provided lots of creative, fun and safe online activities to help people stay occupied and maintain a routine – something we know is really important during difficult times. From dance and fitness classes to online bingo, these sessions are open to anyone we support so please do contact the organisers if someone you know would like to join in.
Our Practice Development team have also published the 'Stay Inside: Be Inspired' resource – a guide to Active Support which contains advice and materials to help those supporting people with disabilities, autism and other complex needs at this time. Using their expertise, the team have also been supporting people directly with their individual needs, responding to some of the difficulties people we support are facing because of the pandemic.
One example of this is Debbie and Emma who are supporting Lauren in Epsom. Lauren has a lot of anxieties about wearing masks and like many of the people we support, she has been struggling with not being able to see her friends or do the things she enjoys. Debbie and Emma have been working with Lauren, helping her to feel more comfortable. They decorate masks for fun and staff have arranged to have aprons and gloves in colours Lauren likes and feels comfortable with.
Lauren recently celebrated her 30th birthday in lockdown. Despite not being able to have two big parties as planned, Debbie and Emma were determined to make it special for Lauren and dressed up as 'Lauren's angels'. They took her out for lunch, bought her personal gifts and even organised a surprise video filled with wonderful birthday messages from her family and friends.
We know there are lots more stories like this. Across the organisation, staff are doing an incredible job, going above and beyond wherever it's needed.
We are also delighted to see vaccinations being rolled out to our frontline workers. We will be supporting as many members of staff as possible to become inspiring 'vaccination heroes' over the coming weeks.
To keep your loved ones safe and well, our staff are continuing to use recommended health and safety measures including rigorous infection control, PPE and social distancing. As our teams are so busy doing this, our services encourage any offers of practical help from families, for example, shopping runs and help with transport, provided this can be achieved safely. Helpers will be required to comply with our infection control measures, which may include a Covid test when you arrive. However please do not attend if you or anyone you live with has symptoms of Coronavirus or has tested positive in the last ten days.  If you think you might still be able to help out, please contact a member of local staff.
I know that there has also been a lot of frustration around visiting, especially with the changing government guidance. Registered Care Homes are subject to stricter government restrictions than Supported Living environments but we will always try to support people and their loved ones to meet, where it is safe to do so and where restrictions allow. Whilst we do not have a blanket policy for face-to-face visits, our most recent organisational Visitors Policy details how we are managing this.
We are also arranging virtual 'visits' wherever possible, supplying technology devices and better Internet connections where we can so that people we support can keep in touch digitally. We will continue to raise funds to do this with our 2021 Keep Fit Challenge.
For more information, guidance and easy read resources about COVID-19, please visit the Coronavirus page on our website.
Above all, we remain committed to providing the best quality support for people who use our services. If you or your loved ones have any concerns or queries, please speak to your Service Manager, or alternatively, you can send us a message via our online contact form.