'Because I'm autistic I find it quite hard to have conversations with people': how Sam became a radio presenter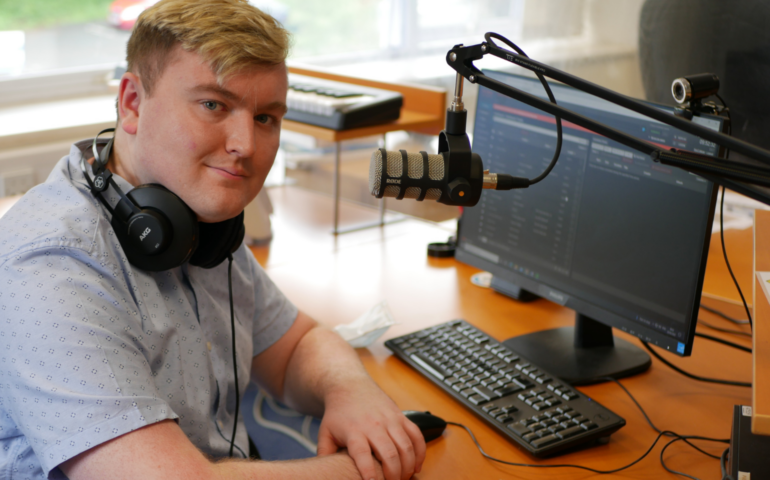 Each week there will be an hour-long magazine show, featuring a mix of great music and exciting features, as well as a downloadable spoken word podcast, shining a light on different areas of United Response and ROC services down in Devon.
The team are joining forces with The Community Network in Kent and the show will be broadcast through the same station: https://urcommunitynetwork.airtime.pro/
Meet your host
ROC College is our specialist college that provides personalised education programmes for young people in Cornwall, Devon and Somerset.
Sam has been a student there since 2019, but he's no stranger to radio.
When he was 16, Sam started working at SoundArt Radio – a community station based in Dartington.
Because I'm autistic I find it quite hard to have conversations with people.

I found it really difficult to speak to teachers, so to develop my speech skills and communication, they thought it would be good to get me doing radio, talking to a microphone.

There's less pressure because you're in a studio, you haven't got people sat in front of you.
Sam started off promoting events between shows, but soon found his passion for presenting. When one of the DJs at SoundArt left, Sam took on his own Thursday afternoon radio show.
He now hosts the Wednesday morning Coffee Break show at LifeCare Radio – a charity station which provides entertainment to those receiving long term care in hospitals, care homes or hospices in Torbay and South Devon.
My show is there to keep them smiling and happy and make them feel like they're not alone.

Because it's an older audience, we play songs from the 50s, 60s, 70s and 80s. We also have quizzes, an 'On This Day' feature, we countdown the charts from the past… It's a really fun show to do.
During the lockdown, Sam and his friend launched his own radio station called 'SamZilla Radio' which broadcasts two live shows every week.
Friday nights at 7pm is 'Rock of Ages' – a show dedicated to Sam's love for classic rock and metal playing bands like Queen, AC/DC, Metallica and Motorhead.
Then on Saturdays at 8pm, he presents the '80s and 90s Hour':
It's inspired by my old SoundArt shows.

My Dad was a huge Wham! fan and I grew up with George Michael's music. Stevie Wonder, Prince and Michael Jackson as well.
He added:
It's so amazing – it's the highlight of my week doing my shows. It makes me really happy to find something that I love doing.
Sam has worked with Student Support Workers Martin Bastian and Lesley Langdon to bring the ROC College Radio Show to life.
As well as supporting with the technical side of the project, they've also worked with Sam on employment skills such as managing his diary, setting up physical and virtual meetings and planning and recording interviews for the podcast.
He's also had to research licensing and learnt how to write technical proposals and documents for managers.
Martin said:
It's so exciting to see the ROC College Radio Show starting to broadcast. Sam has worked hard on this project and I've enjoyed supporting him along the way.

I'm pleased that we've managed to keep the learning curve heading upwards through Sam's internship. Sam has lots of radio experience from the volunteer stations he has worked at and last year we were able to formalise and develop that through accredited learning. Throughout the year people have commented on Sam's confidence and how enjoyable it is to work with him.

The station and Sam's skills are going to be a great asset to ROC College's students, giving them skills and confidence to help them on their journey towards employment. It's very exciting!
Opportunities for ROC students
Sam's been studying the Award in Education & Training and has put together a 12-week scheme of work designed to help ROC College students learn the skills needed to make their own radio shows:
It covers all sorts of aspects of presenting such as scriptwriting and voice, as well as technical production skills like jingles, sweepers and beds.

I really hope that by doing this course, I can train up the students to become fantastic radio presenters. We already have a little bit of interest already.
The first episode of the ROC College Radio Show will be at 2pm on Tuesday 24 May.
It will be repeated at 7pm on Tuesday 24 May and at 11am on Friday 27 May.
You can listen at: https://urcommunitynetwork.airtime.pro/
Jenna Lloyd is Digital Content Officer at United Response.